Presenting
SYDNEY HARBOUR CONCOURS D'ELÉGANCE
Powered by Ferrari
HAUTE-AUTOMOBILISME
The most exclusive, rare and valuable showcase of automobiles ever curated in the Southern Hemisphere. Step into of a world of garden-party glamour and automotive grandeur.
---
David Brabham Announced as Patron of the Sydney Harbour Concours d'Elegance
Following the highly successful inaugural Sydney Harbour Concours d'Elegance March 8th -9th, David Brabham has been announced as Patron of the event moving forward. David is the youngest son of three-time Formula One World Champion, Sir Jack Brabham, and one of the most successful and experienced specialists in sports racing having won the Le Mans 24-hour race in 2009.
---
Strictly by invitation only, 400 guests enjoyed the 2019 Sydney Harbour Concours d'Elegance
In our first year alone, inaugural event partners included Ferrari, Perrier Jouët, The InterContinental Doubly Bay, Martell Cognac, The CEO Magazine, D'Marge, Swissvax & Bentley with David Brabham supporting as Patron going forward. Guests were indulged by five exclusive events throughout the weekend March 7th – March 9th. A chic private soiree event preview was hosted at Lindesay on the 7th for our car owners & selected media only.
Over the weekend, guests celebrated the event by day sipping Perrier Jouët champagne paired with an English High-Tea luncheon whilst viewing the outstanding array of rare and historic motor vehicles in the grounds of Lindesay, a National Trust property. The exclusive estate built in 1834 was styled into a dreamy garden party with water-fountains overflowing with flowers as guests explored the luxury automotive grandeur on display.
By night, the car and luxury connoisseurs were treated to intimate black tie dinners, including a Perrier Jouët Champagne Degustation on the Friday evening, which featured a decadent indoor forest at the InterContinental Hotel, Double Bay including 20 trees reaching 3.5m tall accompanied by ambient LED styling and DJ produced forest sounds remixed to chill wave music. Our elite clientele were treated to an interactive live Q&A with David Brabham, event patron led by Channel Seven's Angie Asimus & Historian Graeme Cocks. The glittering evening events continued on Saturday night at the Royal Automobile Club of Australia and home to the Inaugural Trophy Gala celebrating both the announcement of the newly-appointed patron, David Brabham as well as the Concours award recipients.
Recipient of the coveted Best in Show award was the amazing 1962 Aston Martin DB4 Vantage which was the original Factory press car. The beautiful and fun, 1972 Ferrari Dino 246GTS was the recipient of both the People's Choice and Women's Choice awards.
---
PRESS HIGHLIGHTS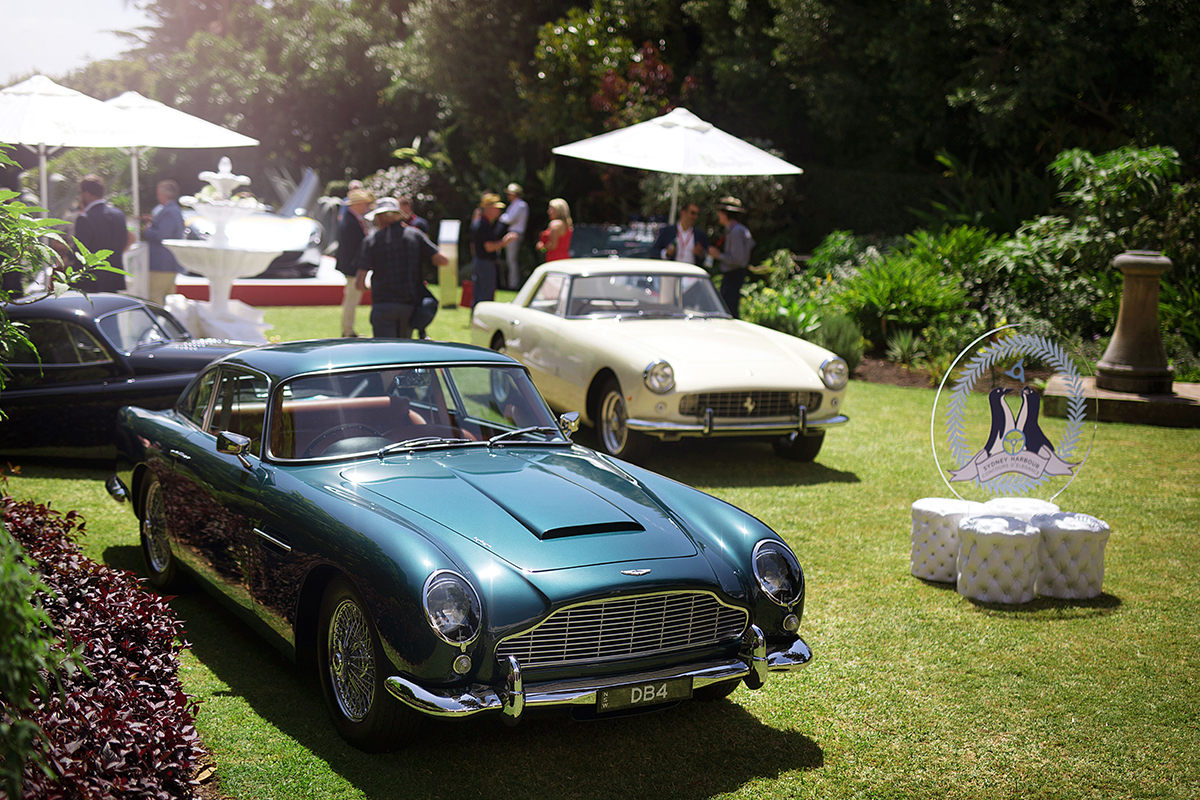 The CEO Magazine
350 invite-only motor enthusiasts experienced the magical garden party showcasing dozens of heritage vehicles
7 Network/7 News
The world's most famous cars set hearts racing at Concours d'Elegance
Auto Addicts
David Brabham to be patron of Sydney Harbour Concours d'Elegance
---
SYDNEY HARBOUR CONCOURS D'ELÉGANCE 2020
The next edition of the Southern Hemisphere's most stylish luxury motoring event.
March 5th – March 7th, 2020
Our world-class curation of cars and exclusive location is under way as we set the 2020 stage for our superlative partners and guests alike. Enquiries are now being taken. Please contact us with your expression of interest below
---
---